Media Resources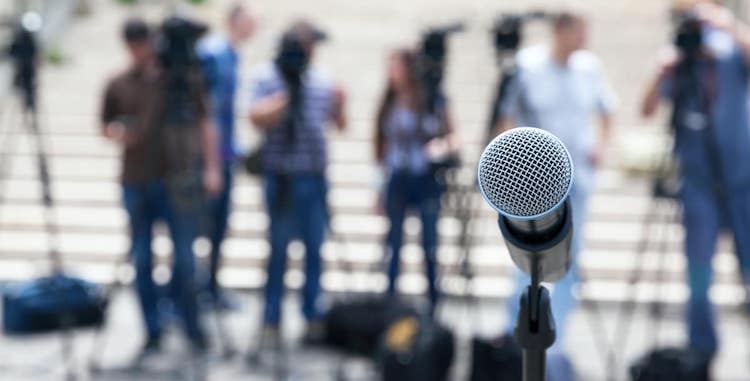 The media relations team is led by Ben Chang and Samantha A. Slater.
If you are a member of the press with an institutional inquiry, please email us directly.  For those seeking commentary on an issue not directly related to the university, please send an email to columbianew[email protected] and describe the issue you are looking to address. In addition, our "Experts for the Media" page serves as a regularly updated resource to help connect reporters with university experts on a wide range of topics in the headlines or driving the news.
Faculty, staff, and students seeking support or guidance in fielding media requests may contact Ben and Samantha. 
For members of the news or entertainment media seeking to film on campus, or gain access to a Columbia event, please refer to the following resources:
Rights and Permission
Requests to republish an image, article, or video should be emailed to the Office of Public Affairs at [email protected]. 
Campus Access for Media
The campuses of Columbia University—all buildings, facilities, and grounds—are private property and are subject to restrictions allowable by law. Members of the working news media must contact the Office of Public Affairs for permission, guidance, and escort assignments. Commercial filming requests must be directed to Emerald Currie in the Office of University Event Management.
News press, filmmakers, and news photographers who enter campus without authorization will be asked to leave.
Please note that faculty members and students may not arrange campus access for press, photographers, or filmmakers independently of the Office of Public Affairs.
If you have any questions regarding this policy or access to campus, please contact Robert Hornsby in the Office of Public Affairs.
Photography, Film, and Video
Media seeking to use any type of camera on campus must contact Robert Hornsby in advance. A detailed description of what images you are requesting along with names of individuals to be interviewed is required. The request must be accompanied by a specific date, time of arrival and departure from campus, and names of all crew members. 
Requests must be limited to regular business hours—9:00 am to 5:00 pm, Monday to Friday—excluding national holidays and other days when campuses are closed to media. Individuals or crews using cameras must be accompanied at all times by a designated University escort.
The Office of Public Affairs works closely with the Office of Public Safety to enforce these campus access policies. Without proper clearance, cameras will be stopped at the campus gates. Media that has been granted permission to enter the campus must clearly display valid credentials.
In general, photography, filming, and videotaping are allowed only in outdoor spaces, such as College Walk, along West 116th Street between Broadway and Amsterdam Avenues.
Cameras are not allowed inside auditoriums, cafeterias, classrooms, corridors, dormitories, gymnasiums, laboratories, libraries, lobbies, residential halls, theaters, the Lerner Hall student center, and other interior spaces unless permission is granted. Requests to obtain broadcast roll (b-roll) on campus also require permission and an assigned escort.
Equipment and Parking
Media may briefly unload equipment at West 116th Street along Broadway or Amsterdam Avenues, but parking on campus is not permitted. Crews with large amounts of equipment may request permission to unload at an elevator entrance to campus.
Student Privacy
The rights of students not to be photographed, filmed, or interviewed must be respected. Advance written permission from each student is required. In general, if a student has agreed to be interviewed or if a student group has approached a media outlet to cover a student event, permission will be granted as long as the media agrees to comply with these policies.
Media who seek interviews before or after an event must do so in approved outdoor spaces, so as not to impede attendees entering or exiting the event. Media and film crews are not allowed to enter classrooms without the advance permission of the instructor. Classes in progress must not be interrupted.
Event Access
Many University events are not open to the media or filming. Events that are open typically require advance registration. Registration may sometimes take place at the event itself. If in doubt, contact the Office of Public Affairs. To gain access, the media must agree to comply with these policies and must display valid credentials. Media who have not registered will not be permitted access.
Student groups who wish to allow external media access to campus events should first consult their group advisor or the dean of students of their school and participate in the advance event review process.
Media attending events must remain seated in a designated section unless permission is given to move elsewhere. Media are not allowed inside classrooms, libraries, dormitories, or other interior spaces unless special permission is granted in advance by the Office of Public Affairs as well as the Office of Public Safety.