Connecting Youth Initiative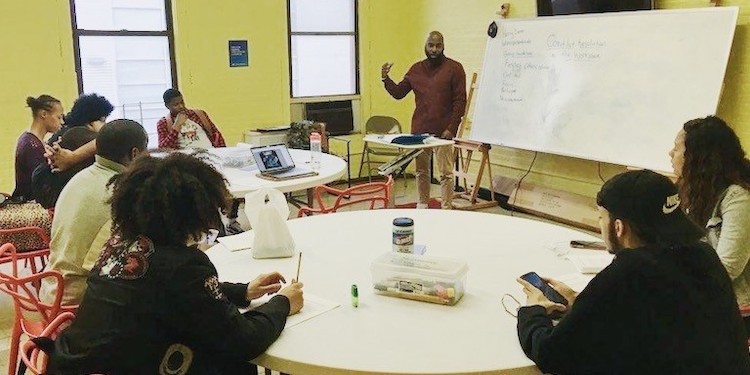 The Connecting Youth Initiative (CYI) is a community- and school-based outreach effort providing assistance to 16- to 24-year-olds in Harlem, Washington Heights, and the South Bronx who have yet to graduate from high school and are not employed. Additionally, CYI services those under the age of 24 who have a high school diploma or equivalency, but are unemployed. CYI is managed by Government and Community Affairs at Columbia University, with the main objective of supporting participants to achieve their educational and employment goals.
Through collaboration with local community-based organizations and schools, CYI staff work with under-served young people to identify barriers to their success and connect them with appropriate services and service providers that will address their needs.
In addition, CYI participants may be:
Navigating re-entry to the community
Court involved
Aging out of foster care
Homeless
CYI's school-based model provides outreach to youth who are enrolled in school but chronically absent, truant, and/or at risk of dropout or aging out. We assist participants with re-engaging in educational activities and obtaining employment opportunities.
Program Offerings
CYI participants receive assistance with:
Getting back on track for high school completion in a NYC Department of Education public school
Referral to High School Equivalency programs to prepare for TASC (formerly known as GED) examination
Referral to alternative school settings (such as DOE Transfer Schools, YABC programs, or Co-Op Tech and other vocational programs)
Enrollment or re-enrollment in a college or university
Direct referral to workforce/employment skill development programs
Access to paid internship and employment opportunities at Columbia University
Resume writing and building
Assistance with job applications for positions outside of Columbia University
Mock job interviews
Additionally, CYI partners work with organizations to facilitate workshops on-site for their program participants. Workshop topics range from "soft-skill," such as communication and active listening to "hard-skills." such as resume building and financial planning. If you are interested in bringing a workshop to your organization please reach out to us.
Participant Criteria
Age: 16 to 24 years old
Education Status: Currently not enrolled in school or enrolled but in danger of dropping out or aging out
Employment Status: Currently not working.
Residential Status: Lives in the following ZIP Codes: 

Manhattan: 10025, 10026, 10027, 10029, 10030, 10031, 10032, 10033, 10034, 10035, 10037, 10039, 10040, 
Bronx: 10451, 10454, 10455, 10474
Registration 
Interested participants can contact the program director, Henry Danner, or complete an info session request form. A follow-up will occur within 48 hours.
---
CYI grew out of the Outreach to Disconnected Youth required by Columbia University's community benefits and services related to the Manhattanville Campus Expansion. We determined a need for more intentional programs to provide participants with support for re-engaging in educational activities and obtaining employment opportunities. Through a targeted outreach and case management process, CYI staff are able to reach young people who are in need and connect them to a variety of service providers.